MARTIN'S
Regular price
Sale price
$14.99
Unit price
per
Sale
Sold out
Martin's Viper RTU Ready-To-Use Insecticide
MARTIN'S® VIPER RTU INSECTICIDE IS A VERSATILE READY-TO-USE FORMULA WITH COUNTRY FRESH SCENT FOR CONTROL OF HOUSEHOLD PESTS INDOORS AND OUTDOORS. ALSO FOR USE ON DOGS AND LIVESTOCK. LASTS UP TO 60 DAYS.
Martin's® Viper RTU Insecticide Features:
* Versatile ready-to-use formula with Country Fresh Scent for control of household pests
* For use indoors and outdoors
* Also for use on dogs and livestock
* Lasts up to 60 days

Martin's® Viper RTU Insecticide Uses/Applications:
Use Sites: Indoors, outdoors, mattresses, lawns, ornamentals, livestock, beef, dairy, cows, cattles, goats, sheep, horses, poultry, chickens, dogs, puppies, and more!

TO CONTROL BEDBUGS: Spray mattresses lightly, particularly around tufts and seams. Take beds apart and spray in all joints. Treat baseboards, moldings and floors. Repeat treatment as needed.

TO CONTROL FLEAS (ADULTS AND LARVAE) AND TICKS (ADULTS AND LARVAE): Thoroughly spray infested areas, pet beds, resting quarters, nearby cracks and crevices, along and behind baseboards, moldings, window and door frames, and entire areas of floor and floor covering. Fresh bedding should be placed in animal quarters following treatment. Repeat treatment as needed. Allow to dry thoroughly before allowing pets to contact treated areas.

TO KILL LICE AND LOUSE EGGS: Spray in an inconspicuous area to test for possible staining or discoloration. Inspect again after drying, then proceed to spray entire area to be treated. Spray from a distance of 8 to 10 inches. Treat only those garments and parts of bedding, including mattresses and furniture that cannot be either laundered or dry cleaned. Allow all treated articles to dry thoroughly before use.

ON LIVESTOCK: To protect cattle (beef and dairy), goats, sheep, hogs and horses from Horn Flies, Face Flies, House Flies, Mosquitoes and Gnats: Apply a light mist sufficient to wet the surface of the hair. For face flies, spray face and head, but do not spray into eyes.

TO CONTROL STABLE FLIES, HORSE FLIES, AND DEER FLIES: Apply at a rate of 2 ounces per adult animal, sufficient to wet the hair thoroughly. Repeat treatment daily or at intervals necessary to give continued protection.

TO CONTROL BLOOD-SUCKING LICE: Apply to the infested areas of the animal, using a stiff brush to get the spray to the base of the hair. Repeat every 3 weeks if required.

TO CONTROL POULTRY LICE: Spray roosts, walls and nests or cages thoroughly. This should be followed by spraying over the birds with a fine mist.

TO CONTROL BEDBUGS AND MITES IN POULTRY HOUSES: Spray crevices of roost poles, cracks in walls, and cracks in nests where the Bedbugs and Mites hide.

ON DOGS: USE ONLY ON DOGS. DO NOT USE ON CATS OR KITTENS. Do not use on puppies less than four weeks old. Consult a veterinarian before using this product on debilitated, aged, pregnant, nursing or medicated animals.

TO CONTROL FLEAS, TICKS, AND LICE: Start spraying at the tail, moving the dispenser rapidly and making sure that the animal's entire body is covered, including the legs and under body. While spraying, fluff the hair so that the spray will penetrate to the skin. Make sure spray wets thoroughly, but do not saturate animal. Do not spray into eyes or face. Avoid contact with genitalia. Do not reapply product for 7 days.

Martin's® Viper RTU Insecticide Target Pests:
For the effective control of: Cockroaches, waterbugs, palmetto bugs, scorpions, millipedes, sowbugs, pillbugs, ants, silverfish, fire brats, spiders, crickets, clover mites, cheese mites, granary weevils, rice weevils, confused flour beetles, rust red flour beetles, drugstore beetles, meal worms, grain mites, cadelles, and ticks.

Martin's® Viper RTU Insecticide Active Ingredients:
Permethrin (CAS #52645-53-1)...................0.25%
Share
View full details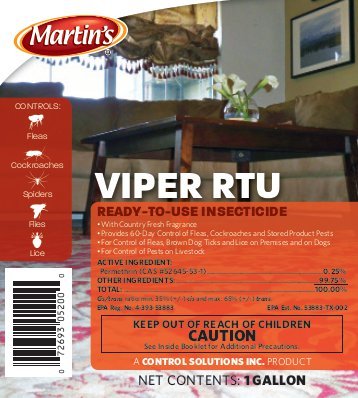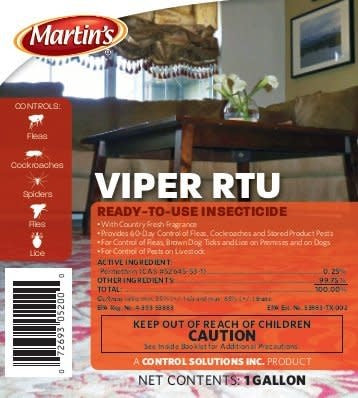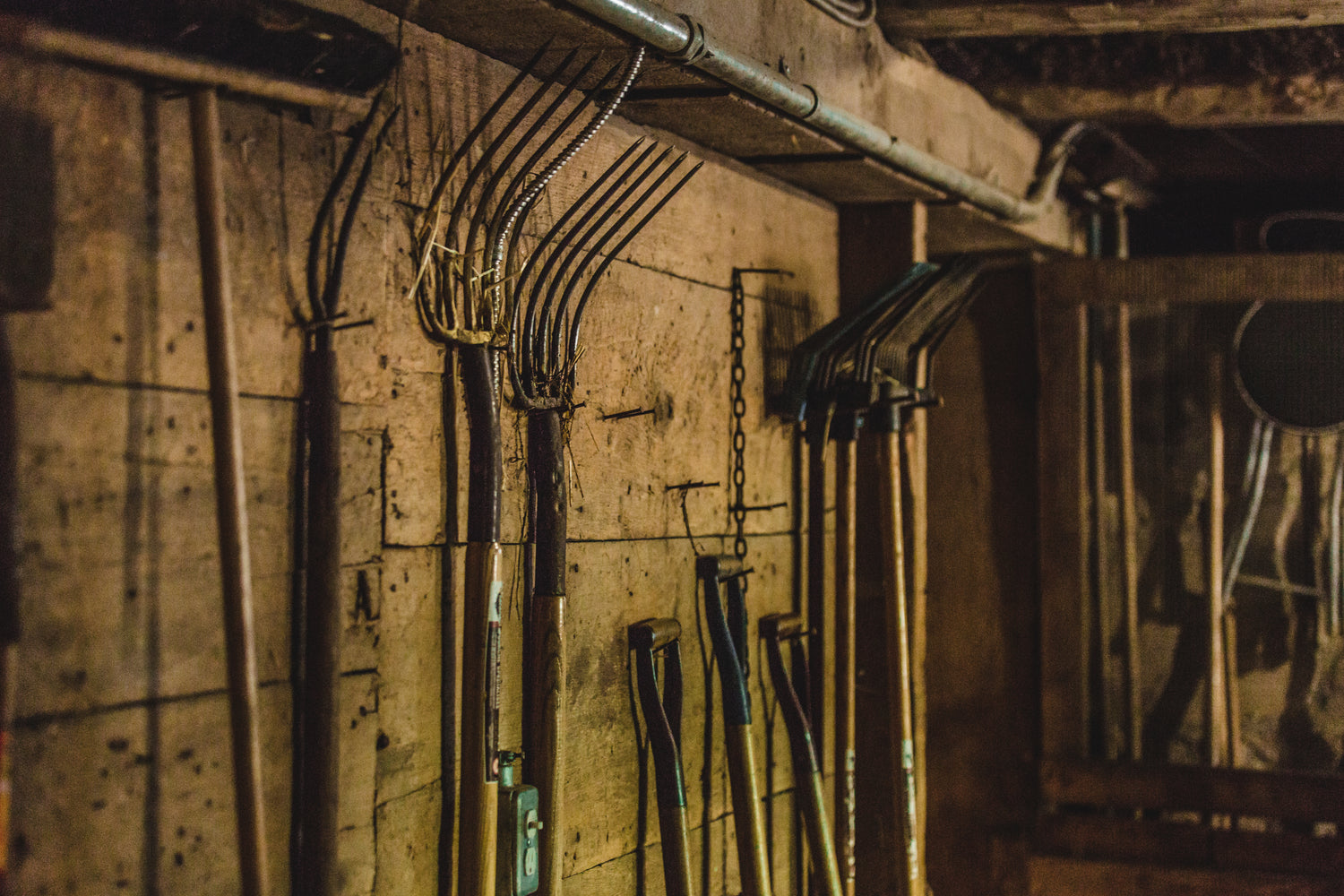 Are you sure you have everything?
We have everything a horse owner needs for their barn
Shop Barn Supplies
Want us to bring your products to your door?